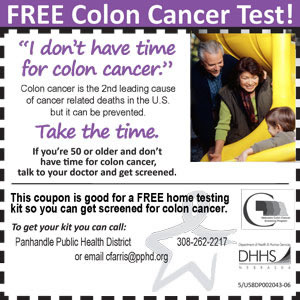 Colorectal cancer is the second leading cancer killer in the US. If everyone 50 or older had regular screening tests, at least 1/3 of deaths from this cancer could be avoided. Colorectal cancer is cancer that occurs in the colon or rectum and occurs most often in people age 50 and older. The risk increases with age.
Both men and women age 50 and older are at risk for developing colon cancer. Your risk may be higher than average if you or a close relative have had colorectal polyps or cancer or if you have inflammatory bowel disease. Speak with your doctor about having earlier or more frequent tests if you think you're at high risk for colorectal cancer.
Getting a screening test for colorectal cancer could save your life. If you are 50 or older get screened today. For a FREE colon cancer screening kit contact Panhandle Public Health District at 1-855-227-2217 or email cfarris@pphd.org. Free FOBT kits are also available at Nein Pharmacy and Sonny's Pharmacy in Bridgeport, and Stockmen's Drug Company in Gordon. Test kits are available to Panhandle Residents over age 50.